Empowering Voters. Defending Democracy.
 Summer Social Gathering
Sunday, June 4th
4:30 – 6:30 p.m.
Seek-No-Further Cidery


126 East Elm Street – Granville, Ohio
Join the League of Women Voters of Licking County for an afternoon of socializing with LWVLC members and friends in the lovely outdoor setting of the Seek-No-Further Cidery in Granville.
Come for the friendship, great conversation, snacks and a variety of delicious and unique brewed ciders! Bring your friends to learn more about the League and our work toward a more perfect union! All are welcome!
A wonderful indoor space is available in case of rain!
ONE-PERSON, ONE-VOTE: NO ON HJR1/SJR2 RALLY: May 3, 2022
Several members of LWV of Licking County participated in the rally to defend democracy and one-person, one-vote. LWVLC joined the 600+ people who marched on the Ohio Statehouse to protest HJR1/SJR2 – a resolution to require 60% voter approval to amend the Ohio constitution.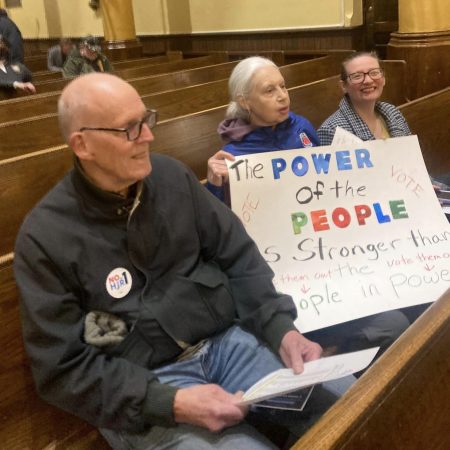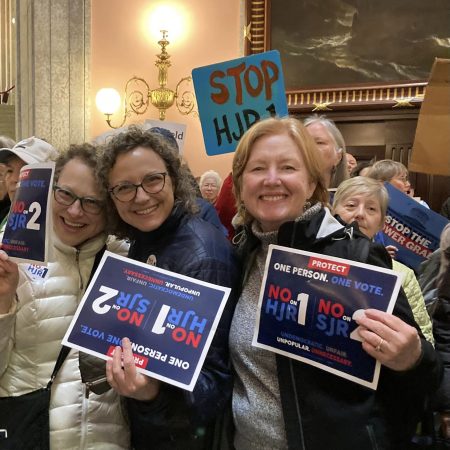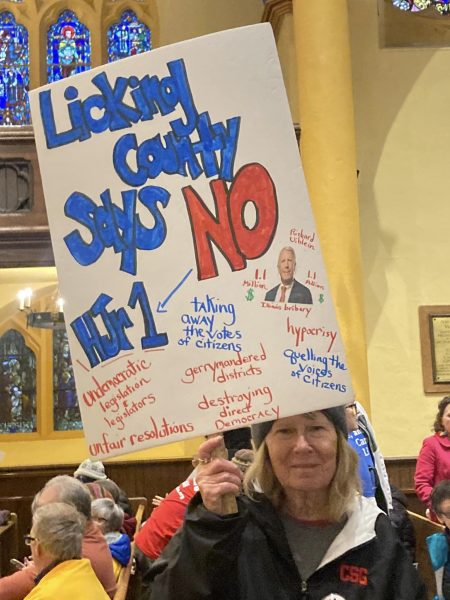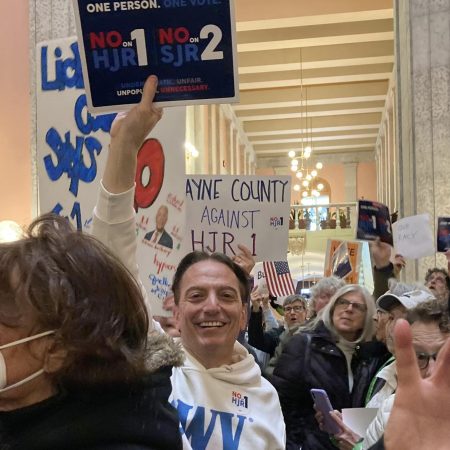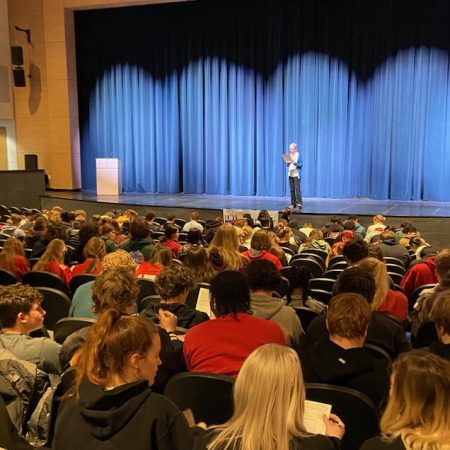 LEAGUE  REGISTERS NEW VOTERS 
LOCAL HIGH SCHOOLS WELCOME LWV  VOLUNTEERS
League of Women Voters of Licking County members registered new voters at local high schools, including Licking Valley, Newark and Watkins Memorial. At an assembly at Watkins Memorial High School, League President Rita Kipp asked students to think about why voting matters to them to elicit the issues they care about, adding, "We vote for candidates who share our sense of what matters, who share our values and perspectives on important issues."  League volunteers distributed voter registration forms, answered student questions, and delivered completed forms to the Licking County Board of Elections.
Interested in hosting a League speaker at your school or upcoming event? Contact us at: lwvlickingcounty@gmail.com
GET UNBIASED VOTING INFORMATION 
VOTE 411 IS YOUR ONE-STOP-SHOP FOR BALLOT DETAILS
This award-winning online tool from the League of Women Voters Education Fund allows you to quickly and easily learn what's on your ballot, find your polling place, confirm registration details and much more.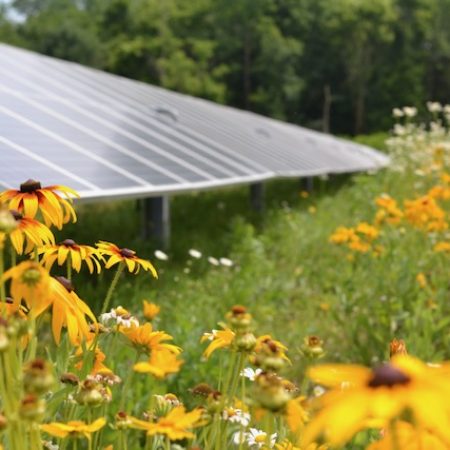 SHAPING OUR DEMOCRACY
LEAGUE DEMANDS FAIR DISTRICTS  MAPS  FOR FAIR ELECTIONS
When public officials–of ANY party– draw legislative district maps to benefit their political party it hurts our democracy. This practice is called gerrymandering. 
 In 2015 and 2018, Ohioans voted overwhelmingly to support changes to the map-making process to make it less prone to partisan gerrymandering. These statewide ballot initiatives won in all 88 Ohio counties and by more than 70% of the vote.
Despite new constitutional rules to prohibit this practice and despite multiple rulings by the Ohio Supreme Court striking down partisan maps, the majority party on the Ohio Redistricting Commission maneuvered to create severely gerrymandered and unconstitutional maps.  This wasn't the way things were supposed to happen. 
The League of Women Voters is part of the Fair Districts Coalition, a non-partisan group working to create a better and more equitable representational democracy and fair maps. Ohio's state and federal maps must be re-drawn again before the 2024 elections. Learn more and get involved. 
NONPARTISAN LEADERSHIP
ADVOCATING FOR GOOD GOVERNMENT
We believe in the power of women to create a more perfect democracy. The League of Women Voters of Licking County, a nonpartisan political organization, encourages informed and active participation in government, works to increase understanding of major public policy issues, and influences public policy through education and advocacy.
We envision a democracy where every person has the desire, the right, the knowledge, and the confidence to participate.
We work across Licking County to register voters, host nonpartisan candidate forums, and educate voters on issues important to maintaining a vibrant democracy. Learn more about us. 
LWV PRESIDENT AUTHORS NEWARK ADVOCATE GUEST COLUMN
WHY I BELIEVE LICKING COUNTY ELECTIONS ARE SECURE
"I have been a poll worker, officially a Precinct Election Official (PEO), for several years. This is why I am confident that our elections are secure. I have set up the voting machines and then packed them away, and between those bookends, worked at the polls from 5:30 a.m. until after 7:30 p.m. This is what I have learned…"
LEAGUE CRITICAL OF ANTI-DENISON VOTING AD
BOARD MEMBERS CRITIQUE MISLEADING & INACCURATE INFORMATION 
In response to a misleading ad in the Newark Advocate and Granville Sentinel, the League of Women Voters of Licking County authored a Letter to the Editor critiquing the anti-school levy group's claims. 
Related articles: 
ADVOCATING FOR GREATER GOVERNMENT TRANSPARENCY
LEAGUE PRESIDENT RECOMMENDS REFORMS TO HEALTH DISTRICT ADVISORY COUNCIL OPERATIONS
In a series of two guest columns in the Newark Advocate, Rita Kipp, President of the League of Women Voters of Licking County, suggested that the county's District Advisory Committee was not in compliance with Ohio Sunshine Laws. The little-known Advisory Committee is tasked with making appointments to the Board of Health in Licking County.   
Part 1: Licking Health oversight has room for Improvement. 
Part 2: A better way to organize oversight to the Licking County Health Board.
WORKING TO END GERRYMANDERING
THE POSTCARD PROJECT FOR FAIR MAPS
Members of the League of Women Voters of Licking County wrote hundreds of postcards to Ohio's legislative map-makers to urge a transparent map-making process that keeps communities together and reflects the redistricting reforms passed overwhelmingly by voters.