Empowering Voters. Defending Democracy.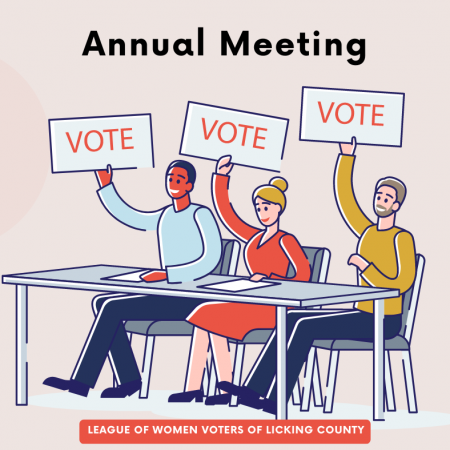 2023 ANNUAL MEETING

Featuring guest speaker
Jen Miller, League of Women Voters of Ohio Executive Director
April 25, 2023
7 p.m. 
Newark City Schools Administration Roosevelt Building


621 Mt. Vernon Rd – Newark, Ohio
The League of Women Voters of Licking County Annual Meeting  will feature a report by President Rita Kipp, election of officers and a presentation by guest speaker Jen Miller, Executive Director of the League of Women Voters of Ohio. 
Join us for this special event!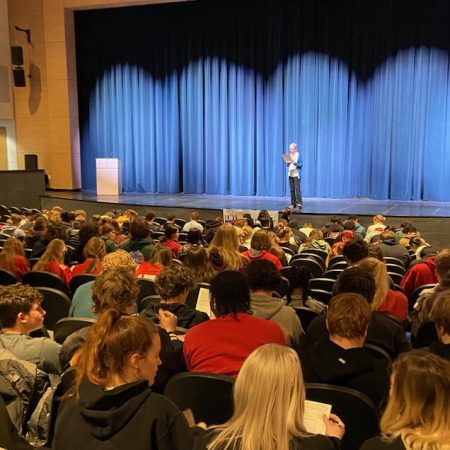 LEAGUE  REGISTERS NEW VOTERS 
LOCAL HIGH SCHOOLS WELCOME LWV  VOLUNTEERS 
League of Women Voters of Licking County members registered new voters at local high schools, including Licking Valley, Newark and Watkins Memorial. At an assembly at Watkins Memorial High School, League President Rita Kipp asked students to think about why voting matters to them to elicit the issues they care about, adding, "We vote for candidates who share our sense of what matters, who share our values and perspectives on important issues."  League volunteers distributed voter registration forms, answered student questions, and delivered completed forms to the Licking County Board of Elections.
Interested in hosting a League speaker at your school or upcoming event? Contact us at: lwvlickingcounty@gmail.com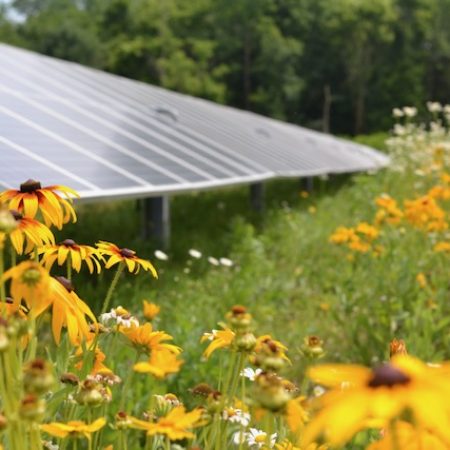 LEAGUE CRITICAL OF ANTI-DENISON VOTING AD
BOARD MEMBERS CRITIQUE MISLEADING & INACCURATE INFORMATION 
In response to a misleading ad in the Newark Advocate and Granville Sentinel, the League of Women Voters of Licking County authored a Letter to the Editor critiquing the anti-school levy group's claims. 
Related articles: 
LWV PRESIDENT AUTHORS NEWARK ADVOCATE GUEST COLUMN
WHY I BELIEVE LICKING COUNTY ELECTIONS ARE SECURE
"I have been a poll worker, officially a Precinct Election Official (PEO), for several years. This is why I am confident that our elections are secure. I have set up the voting machines and then packed them away, and between those bookends, worked at the polls from 5:30 a.m. until after 7:30 p.m. This is what I have learned…"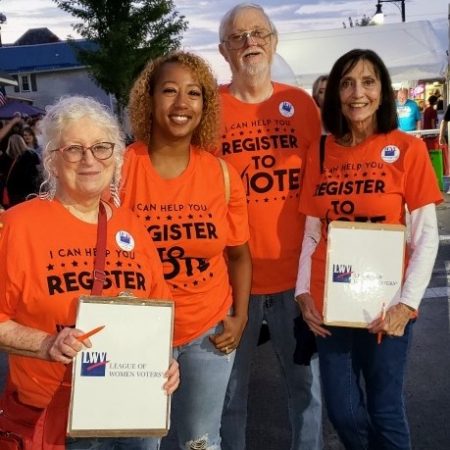 VOTER REGISTRATION 
LEAGUE ACTIVE AT LOCAL EVENTS
Volunteers with the League of Women Voters of Licking County have helped register voters and update voter registrations at several large local events, including the Granville Pride Parade, the Granville 4th of July parade, the Pataskala Street Fair,  Hot Licks Blues Fest, Granville Farmers Market and OSU-Newark Activity Fair.
To volunteer at an upcoming event or to invite the League of Women Voters to offer voter registration at your event contact us: lwvlickingcounty@gmail.com
GET UNBIASED VOTING INFORMATION 
VOTE 411 IS YOUR ONE-STOP-SHOP FOR BALLOT DETAILS
This award-winning online tool from the League of Women Voters Education Fund allows you to quickly and easily learn what's on your ballot, find your polling place, confirm registration details and much more.
NONPARTISAN LEADERSHIP
ADVOCATING FOR GOOD GOVERNMENT
We believe in the power of women to create a more perfect democracy. The League of Women Voters of Licking County, a nonpartisan political organization, encourages informed and active participation in government, works to increase understanding of major public policy issues, and influences public policy through education and advocacy.
We envision a democracy where every person has the desire, the right, the knowledge, and the confidence to participate.
We work across Licking County to register voters, host nonpartisan candidate forums, and educate voters on issues important to maintaining a vibrant democracy. Learn more about us. 
LEAGUE DONATES HYGIENE BAGS
MLK DAY SERVICE PROJECT SUPPORTS UNHOUSED AND AT-RISK POPULATIONS IN LICKING COUNTY
The League of Women Voters of Licking County collected toiletries and select clothing items to create hygiene bags for Newark Homeless Outreach, which serves unhoused families in the region. Items collected included toothbrushes, toothpaste, soaps and sanitary products along with hats, socks and gloves. The League exceeded our goal of creating 45 bags, collecting supplies for a total of 66 bags. We shared the surplus with other organizations that serve the unhoused including the Center for New Beginnings, a confidential emergency shelter for victims of domestic violence. 
REDBIRD BOOKS TO PRISONS
LEAGUE COLLECTS & DONATES BOOKS TO INCARCERATED OHIOANS
In celebration of Martin Luther King Jr. Day 2022, the NAACP, in partnership with the League of Women Voters of Licking County, and other allied organizations collected approximately 600 gently used books for Redbird Books for Prisoners, a nonprofit organization that sends books to incarcerated individuals in correctional facilities across Ohio. 
A huge thanks to LWV member Emily Vermillion for coordinating both the book and hygiene bag service projects! 
SHAPING OUR DEMOCRACY
LEAGUE DEMANDS FAIR DISTRICTS FOR FAIR ELECTIONS
Once every ten years, states draw new maps for congressional and state legislative districts based on population data collected via the U.S. Census.  In 2015 and 2018, Ohioans voted overwhelmingly to support changes to the map-making process. These statewide ballot initiatives won in all 88 Ohio counties and by more than 70% of the vote.  These reforms created rules that create a bipartisan process for drawing the maps and focuses on keeping communities together. 
It is now up to us to hold the mapmakers accountable and abide by the rules we voted to create.  The League of Women Voters is part of the Fair Districts Coalition, a non-partisan troup working to create a better and more equitable representational democracy. Learn more and get involved. 
FIGHT FOR FAIR MAPS CONTINUES
LEAGUE OF WOMEN VOTERS OF OHIO CHALLENGES STATE & CONGRESSIONAL MAPS
When public officials–of ANY party– draw legislative district maps to only benefit their political party it hurts our democracy. This practice is called Gerrymandering. Despite new constitutional rules to prohibit this practice and despite multiple rulings by the Ohio Supreme Court striking down gerrymandered maps, the majority party has maneuvered to keep both congressional and state legislative maps in place for this fall's election. This wasn't the way things were supposed to happen. Learn more. 
ADVOCATING FOR GREATER GOVERNMENT TRANSPARENCY
LEAGUE PRESIDENT RECOMMENDS REFORMS TO HEALTH DISTRICT ADVISORY COUNCIL OPERATIONS
In a series of two guest columns in the Newark Advocate, Rita Kipp, President of the League of Women Voters of Licking County, suggested that the county's District Advisory Committee was not in compliance with Ohio Sunshine Laws. The little-known Advisory Committee is tasked with making appointments to the Board of Health in Licking County.   
Part 1: Licking Health oversight has room for Improvement. 
Part 2: A better way to organize oversight to the Licking County Health Board.
WORKING TO END GERRYMANDERING
THE POSTCARD PROJECT FOR FAIR MAPS
Members of the League of Women Voters of Licking County have written hundreds of postcards to Ohio's legislative map-makers to urge a transparent map-making process that keeps communities together and reflects the redistricting reforms passed overwhelmingly by voters.