Empowering Voters. Defending Democracy.
SHAPING OUR DEMOCRACY
LEAGUE DEMANDS FAIR DISTRICTS FOR FAIR ELECTIONS
Once every ten years, states draw new maps for congressional and state legislative districts based on population data collected via the U.S. Census.  In 2015 and 2018, Ohioans voted overwhelmingly to support changes to the map-making process. These statewide ballot initiatives won in all 88 Ohio counties and by more than 70% of the vote.  These reforms created rules that create a bipartisan process for drawing the maps and focuses on keeping communities together. 
It is now up to us to hold the mapmakers accountable and abide by the rules we voted to create.  The League of Women Voters is part of the Fair Districts Coalition, a non-partisan troup working to create a better and more equitable representational democracy. Learn more and get involved. 
FIGHT FOR FAIR MAPS CONTINUES
LWV CALLS FOR COMPETITIVE CONGRESSIONAL MAPS
The League of Women Voters, as part of the Fair Districts Ohio coalition, continues to call on the commission to draw fair, competitive, bipartisan maps.
Get involved:
ADVOCATING FOR GREATER GOVERNMENT TRANSPARENCY
LEAGUE PRESIDENT RECOMMENDS REFORMS TO HEALTH DISTRICT ADVISORY COUNCIL OPERATIONS
In a series of two guest columns in the Newark Advocate, Rita Kipp, President of the League of Women Voters of Licking County, suggested that the county's District Advisory Committee was not in compliance with Ohio Sunshine Laws. The little-known Advisory Committee is tasked with making appointments to the Board of Health in Licking County.   
Part 1: Licking Health oversight has room for Improvement. 
Part 2: A better way to organize oversight to the Licking County Health Board.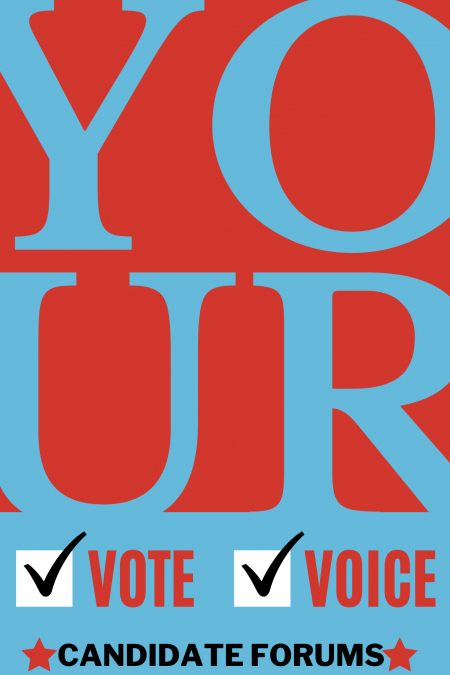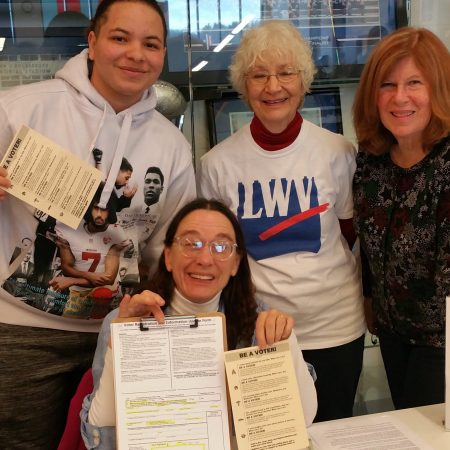 LEADERS IN LOCAL VOTER REGISTRATION
NONPARTISAN ADVOCATES FOR GOOD GOVERNMENT
We believe in the power of women to create a more perfect democracy. The League of Women Voters of Licking County, a nonpartisan political organization, encourages informed and active participation in government, works to increase understanding of major public policy issues, and influences public policy through education and advocacy.
We envision a democracy where every person has the desire, the right, the knowledge, and the confidence to participate.
We work across Licking County to register voters, host nonpartisan candidate forums, and educate voters on issues important to maintaining a vibrant democracy. Learn more about us. 
FAIR MAPS DAY
LWV OF LICKING COUNTY CALLS FOR END TO PARTISAN GERRYMANDERING
On September 21st, a coalition of good government advocates from across the state, including Ohio Environmental Council, Common Cause Ohio, and the Ohio Council of Churches joined the League of Women Voters for Fair Maps Day, a series of events to demand a fair redistricting process and an end to partisan gerrymandering. Close to a dozen members of the Licking County League attended the press conference at the historic Trinity Episcopal Church and rally at the Ohio Statehouse. A delegation also met with  Senator Hottinger's office about the congressional district mapping process. Learn more about the maps passed by the Ohio Redistricting Commission. 
OHIO REDISTRICTING COMMISSION HEARINGS HELD AROUND STATE
LWV OF LICKING COUNTY MEMBERS TESTIFY IN ZANESVILLE
The Ohio Redistricting Commission held a series of public hearings about the mapmaking process at college campuses across Ohio the week of August 23rd.  More than 20 members of the League of Women Voters of Licking County attended the hearing in Zanesville.
View testimony from the hearing. 
WORKING TO END GERRYMANDERING
JOIN THE POSTCARD PROJECT FOR FAIR MAPS
Members of the League of Women Voters of Licking County have written hundreds of postcards to Ohio's legislative map-makers to urge a transparent map-making process that keeps communities together and reflects the redistricting reforms passed overwhelmingly by voters.
Participate in this important activity from the comfort of home. Contact us at:   lwvlickingcounty@gmail.com to get supplies & get involved.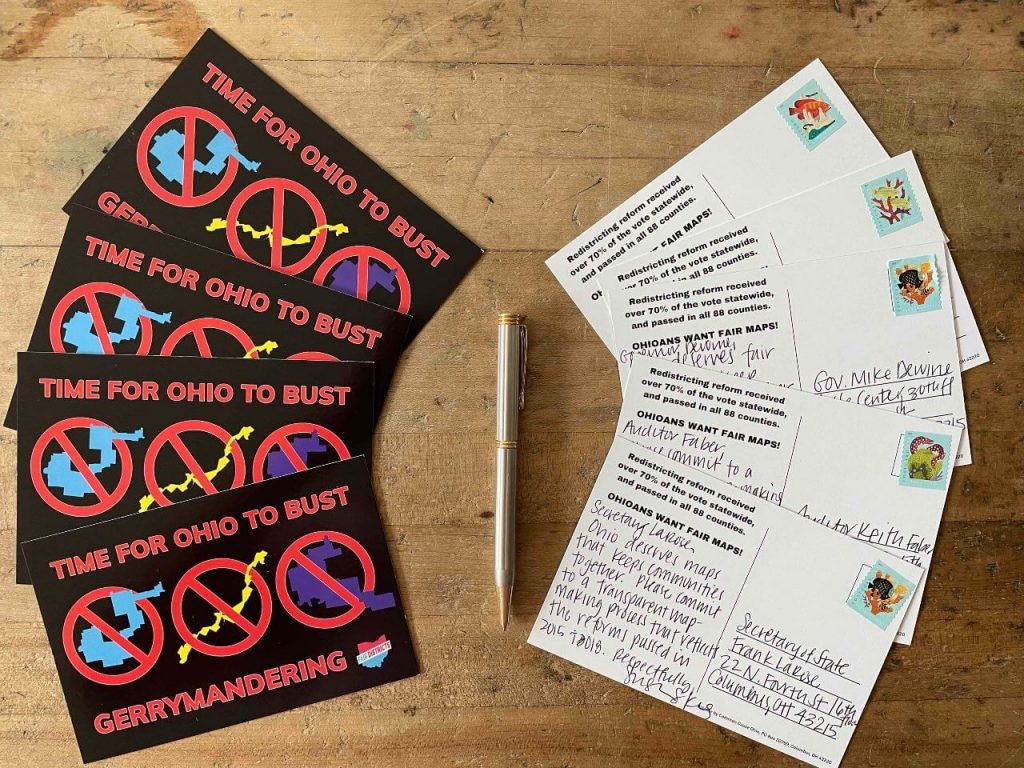 GET UNBIASED VOTING INFORMATION 
VOTE 411 IS YOUR ONE-STOP-SHOP FOR BALLOT DETAILS
This award-winning online tool from the League of Women Voters Education Fund allows you to quickly and easily learn what's on your ballot, find your polling place, confirm registration details and much more.